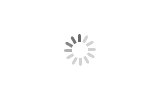 Cartridge Filter Housings
Cartridge Filter Housings
A cartridge filter system can be employed as an alternate filtering system to reduce turbidity and remove giardia. A
cartridge filter is made of a synthetic media contained in a plastic or metal housing. These systems are normally
installed in a series of three or four filters. Each filter contains a media that is successively smaller than the previous filter.
The media sizes typically range from 50 to 5µ or less. The filter arrangement is dependent on the quality of the water, the capability of the filter, and the quantity of water needed.
Our cartridge filter materials are stainless steel 304, 316,PVC or FRP, thickness and design depends on application.
Cartridge Filter Housings
CARTRIDGE FILTER HOUSINGS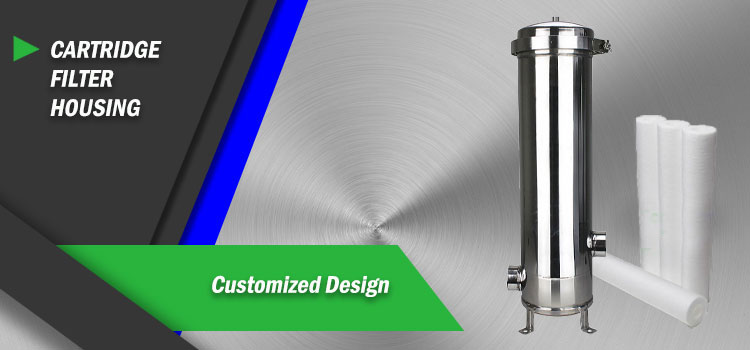 Cartridge filter housings are usually used to directly pretreat influent water just prior to the RO feed pump and membranes. We generally use stainless steel filter housing for water filter cartridge. Cartridge filter housings are designed to prevent resin and media that may have carried over from upstream soft enters and filters, from reaching the RO feed pump and damaging the impeller as well as reaching the RO membrane modules and blocking off the feed channels.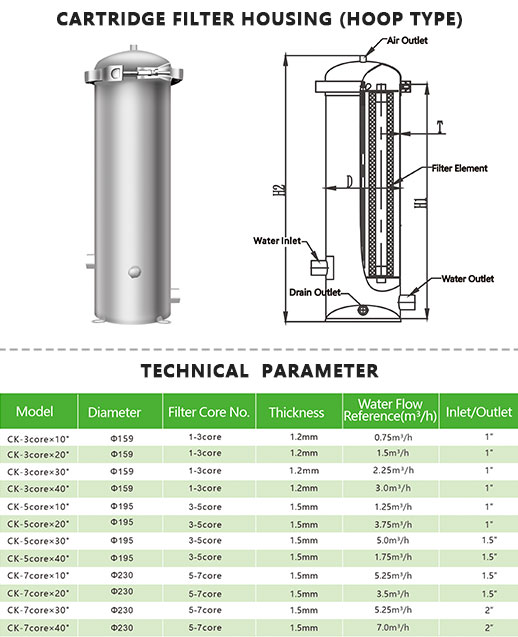 We design cartridge filter housing as regards to raw water source, if TDS is low and not corrosive, we suggest to use stainless steel filter housing. They are also designed to remove macro-particles that could physically abrade or penetrate the thin film membrane layer. cartridge filter housings are not intended for bulk removal of suspended solids, turbidity, or SDI as is commonly believed. The rating of water filter cartridge is usually 5 microns nominal (although absolute is recommended), which is much too large for removal of solids that contribute to turbidity and SDI.
In addition to the micron rating, cartridge filter housings are also rated in length using 10-inch equivalents (TIE). Water filter cartridge can be up to four TIE, or 40 inches in total length. Generally, RO systems use 2.5-inch diameter water filter cartridge.
The number of water filter cartridge required is determined by the flow rate of the system. Design protocol calls for a maximum flow rate of about 5 GPM (1m3/h) per TIE (2.5-inch diameter) for optimum performance.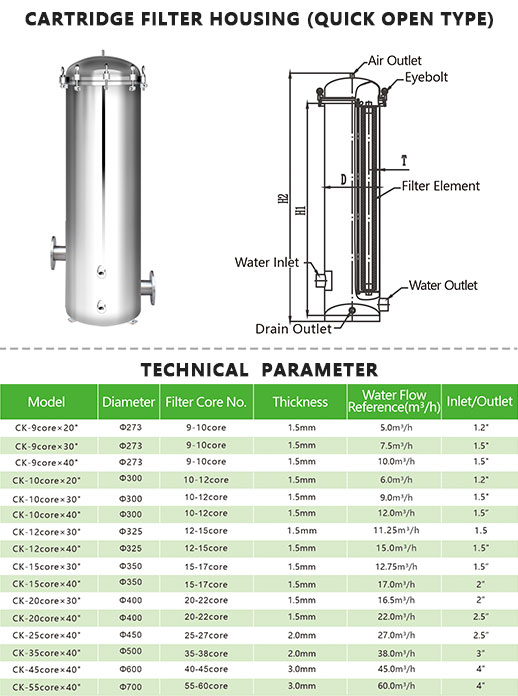 Stainless steel filter housing thickness can be customized for your application and also stainless steel filter housing inlet and outlet pipe or flange size also can be customized.
Our stainless steel filter housings are tested for pressure and checking the welding places carefully.