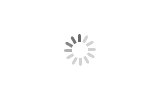 Commercial Salt Water Treatment Purification Systems
Commercial Salt Water Treatment Purification Systems

Commercial Salt Water Treatment Purification Systems are used to remove salt and purify water. This system consists of booster pump, FRP/Carbon Steel pretreatment tanks (sand filter, activated carbon filter), SS304 cartridge filter housing, chemical dosing systems, high pressure pump, FRP membrane pressure vessel, 4040 membranes, control panel and touch screen control.
Material and parts brand can be changes as regards to raw water quality and customer demand.
From touch screen panel, you can see all system flow diagram and automatic or manual control the system.
Membranes do not allow small particles, virus, bacteria to pass as a result your water becomes very clean and safe.
Commercial Salt Water Treatment Purification Systems
COMMERCIAL SALT WATER TREATMENT PURIFICATION SYSTEMS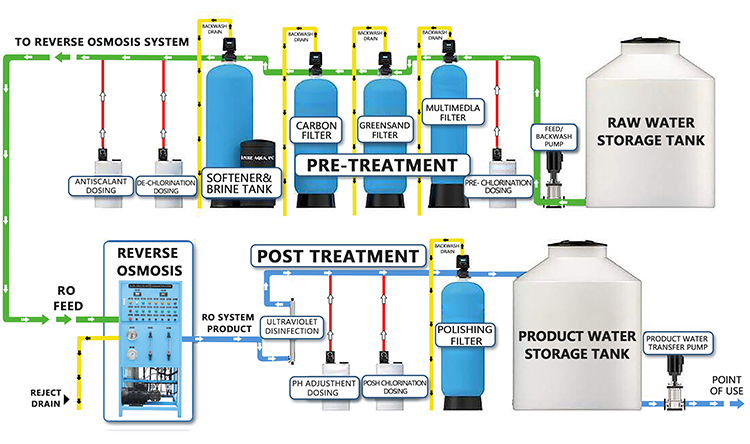 Chunke as water treatment manufacturers has water treatment solutions for salt water problem. Commercial Salt Water Desalination Water Treatment System Capacity range between 2m3/hour to 48m3/day. If you need bigger than this capacity please see our Industrial Brackish Water treatment solutions.

All Commercial Brackish Desalination Water Treatment Plants are started from booster pump, it feeds raw water to pretreatment tanks. Depends on capacity pretreatment tank size and numbers can be changed. Because of High TDS (Total Dissolved Solid) we usually use FRP and Carbon Steel Tanks but we can check your raw water source analysis and we can suggest alternative material. If salt content and TDS high, because of the corrosion, we are using FRP or Carbon Steel material for pretreatment tanks. Pretreatment consists of Sand Media Filter Tank, Activated Carbon Filter Media Tank and Softener Tank which has ion exchange resin inside, they are very important for Brackish Water treatment solutions.
Pretreatment is used to remove large number of suspended solids, iron, turbidity, unwanted color, unpleasant taste, chlorine, sediment, organic contaminants, odors. In pretreatment we can control the follow manual or automatic for Brackish Water desalination water treatment Plant.
After pretreatment water goes to cartridge filter housing, we call it as security filter, most of application we are using stainless steel 304 or 316 material, but if water is very salty like brackish or seawater, we can use carbon steel or FRP or PVC Plastic Cartridge Filter Housing or Bag Filter Housing. There is 1µm or 5 µm PP filter in cartridge filter housing in Brackish desalination water treatment RO Plant.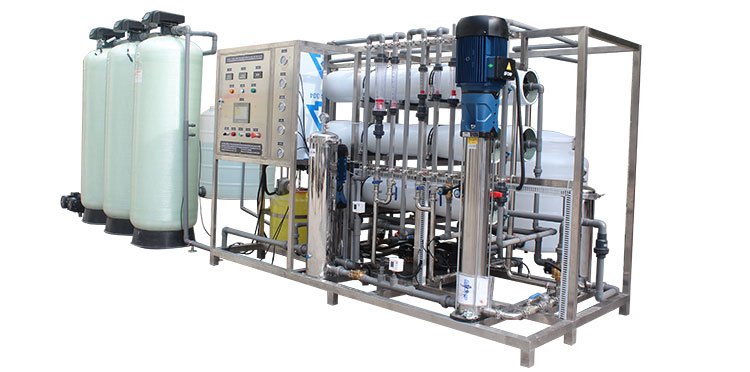 After cartridge filter housing, water goes to membrane pressure vessel with High Pressure Pump, you have brand option for High Pressure Pump and it allows you to adjust your budget. Membrane housing shell inside depends on capacity we have 4040 Membranes. Most of our project we are using DOW Filmtec, Toray , Vontron, Hydranautics, LG brand. These brands are mostly preferred by water treatment manufacturers.
Membranes, in Commercial Brackish Water Desalination Water Treatment Plant, are most important part. They block if parts size bigger than 0.001µm and molecular weight up to 150-250Dalton. It consists of impurities, particles, sugars, proteins, bacteria, dyes, organic and inorganic solids.
Also Commercial Brackish Water Treatment Plant system can have chemical dosing at pretreatment or post treatment, like antiscaling (antiscalant) , antifouling, pH adjustment, Sterilization & Disinfection chemicals. Chunke as water treatment manufacturers and water treatment solutions company always use best chemicals
In Chunke when we check customer water analysis report, sometimes because of scaling and fouling problems, we can use CIP (Clean In Place) System, it wash membrane in membrane housing and make membrane life longer. CIP system is good water treatment solution to expand membrane usage life. Chunke as water treatment manufacturers always take quality and sustainability at first.
Parts for commercial desalination water treatment plant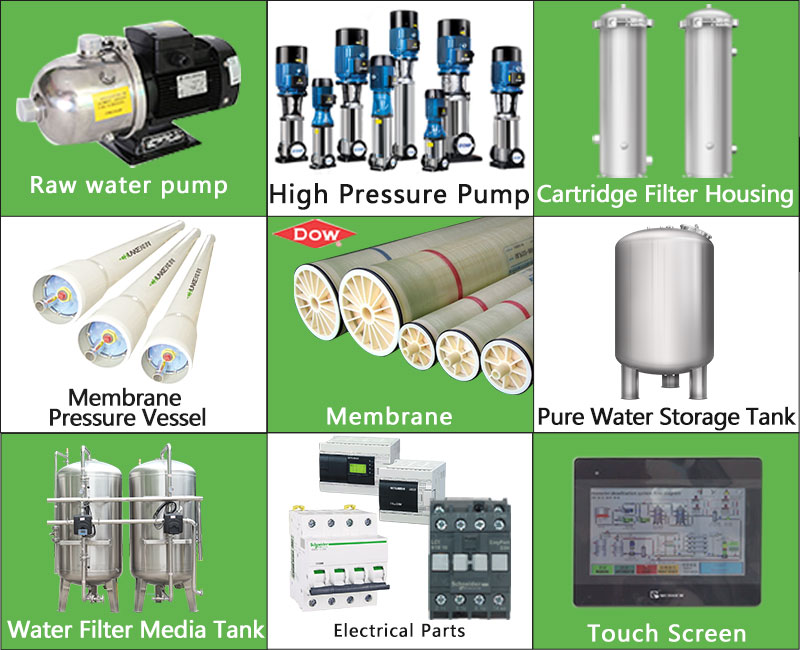 Electrical Power of Commercial Salt Water Treatment Purification Systems
For commercial desalination water treatment Plant needs 220-380V/50Hz/60Hz. For bigger capacity, because of high pressure pump, it needs 380V 50/60Hz. As regards to your Brackish Water RO Plant machine design, we will check your electrical supply and decide fix power to you.
MODELS of Commercial RO Desalination Water Treatment System
Model Number

Permeate Flow Rate

Membranes

Liter/Hour

Size

Quantity

CK-RO-100L

100L

4021

1-2

CK-RO-250L

250L

4040

1-2

CK-RO-500L

500L

4040

2-4

CK-RO-1000L

1000L

4040

4-6

CK-RO-2000L

2000L

4040

8-10
Before Buying Commercial Brackish Water Desalination Plant,you should know:
1. Pure Water Production Capacity (L/day, L/Hour, GPD).
2. Feed Water TDS and Raw Water Analysis Report (prevent fouling and scalling problem)
3. Iron and Manganese must be removed before raw water enter to membrane of Commercial RO Desalination Water Treatment machine.
4. TSS (Total Suspended Solid) must remove before commercial Brackish Water Treatment RO Plant's membrane.
5. SDI (Silt Density Index) must be less than 3
6. Must be sure your water source does not have oil and grease
7. Chlorine must be removed before industrial Commercial Salty Water desalination water treatment RO Plant
8. Available electrical power voltage and phase
9. Layout of place for commercial desalination water treatment system
Features of commercial brackish water desalination reverse osmosis system
| | |
| --- | --- |
| Standard Futers | Available Options |
| Programmable PLC Control | Automatic Flush |
| Motor Starter | Ozone Generator |
| Raw Water Feeding/Booster Pump | UV Sterilizer |
| Stainless Steel Cartridge Filter Housing | Chemical Dosing |
| FRP Membrane Housing | pH control monitor |
| Mitsibushi Processor Control | ORP Control monitor |
| Low Pressure Switch | Remote Control |
| High Pressure Switch | Pretreatment System |
| Liquid filled pressure gauge | Post Deionization Unit |
| Stainless Steel 304 Frame | CIP Membrane cleaning system |
| Permeate Conductivity Monitor | Touch Screen Control |
| Raw Water Conductivity Monitor | Tank Level Switch |
| Membranes | Customer Logo |
| Control Valves | |
| Stainless Steel/UPVC Piping | |
Operation Specification for Commercial Brackish Water RO Plant
| | | |
| --- | --- | --- |
| Feed Water TDS > 1000ppm | Hardness over 18ppm Needs Antiscalant Dosing | Turbidity Must Be Removed |
| Max. Feed Water Temp: 42°C | Operate at Higher TDS Results Lower Recovery | H2S Must Be Removed |
| pH Tolerance: 3-11 | Max. Iron Content: 0.05ppm | |
| Feed Water Pressure: 1.5 to 6 bar | Max. Silica Tolerance: 60ppm | |
Chunke as water treatment manufacturers has all solutions for your water problem. Or desalination water treatment plants give you economic, affordable, efficient water treatment solutions.