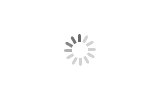 Ballast Water Treatment Equipments
Ballast Water Treatment Equipments
Ballast water contains a variety of organisms including bacteria and viruses and the adult and larval stages of the many marine and coastal plants and animals. While the vast majority of such organisms will not survive to the point when the ballast is discharged, some may survive and thrive in their new environment. These 'nonnative species', if they become established, can have a serious ecological, economic and public health impact on the receiving environment.
Ballast Water Treatment Equipments
BALLAST WATER TREATMENT EQUIPMENTS
Chunke as membrane water treatment plant producer, start working on ballast water treatment systems. We have great experience on membrane water treatment plant production and we want o use our knowledge on ballast water treatment technology.
Uptake and discharge of ballast water by ocean-going ships contribute to the worldwide spread of aquatic invasive species, with negative impacts on the environment, economies, and public health. The International Ballast Water Management Convention aims at a global answer. The agreed standards for ballast water discharge will require ballast water treatment technology. Systems based on various physical and/or chemical methods were developed for on-board installation and approved by the International Maritime Organization. Most common are combinations of high-performance filters with oxidizing chemicals or industrial UV water treatment. A well-known problem of oxidative water treatment is the formation of disinfection by-products, many of which show genotoxicity, carcinogenicity, or other long-term toxicity. In natural biota, genetic damages can affect reproductive success and ultimately impact biodiversity. The future exposure towards chemicals from ballast water treatment technology can only be estimated, based on land-based testing of treatment systems, mathematical models, and exposure scenarios.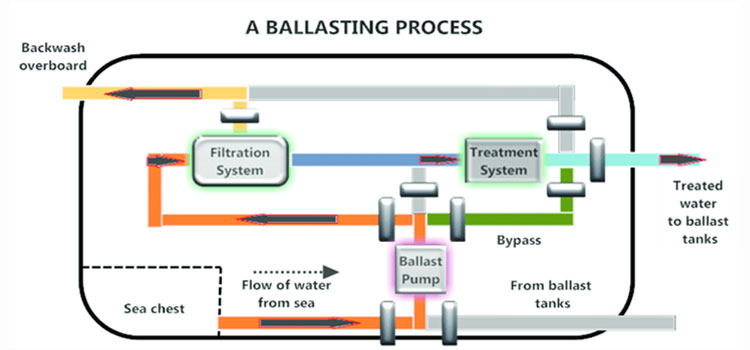 Measures for ballast water treatment technology can be divided into mechanical–physical and chemical processes. Practically all identified ballast water treatment technology employ a combination of two or more different processes. In most cases, mechanical separation of larger particles by filters or hydro cyclones constitutes the first treatment step. Automatic, self-cleaning filter systems with mesh sizes of about40µm are frequently employed, leaving smaller organisms in the water. Other physical measures are (a) the application of ultrasound and cavitation, which lead to the mechanical destruction of particles and organisms, (b) high energy techniques, such as heating or (c) industrial UV water treatment. With the combination of high performance filters and industrial UV water treatment
radiation, there are several type-approved BWMS on the market that rely entirely on physical treatment methods to achieve the IMO D-2 standard. While these systems have no potential to cause chemical hazards to humans or the environment, their downsides are high energy consumption and potential performance problems in waters of high turbidity or a high content of dissolved organic matter (DOM), which may reduce the penetration of industrial UV water treatment light.
Chunke is steel working on R&D to use membrane water treatment plant and industrial UV water treatment on ballast water treatment technology.
Chunke is membrane water treatment plant company, some of our studies are going on BWMS. Membrane water treatment plant is effective way to remove impurities from water.